01
Browse our luxury real estate portfolio and choose the right investment for you.
02
Choose How Much to Invest
Decide how much you want to invest and arrange a secure payment with our team.
03
Watch as the property appreciates over time and enjoy capital gains on your money when it's time to sell.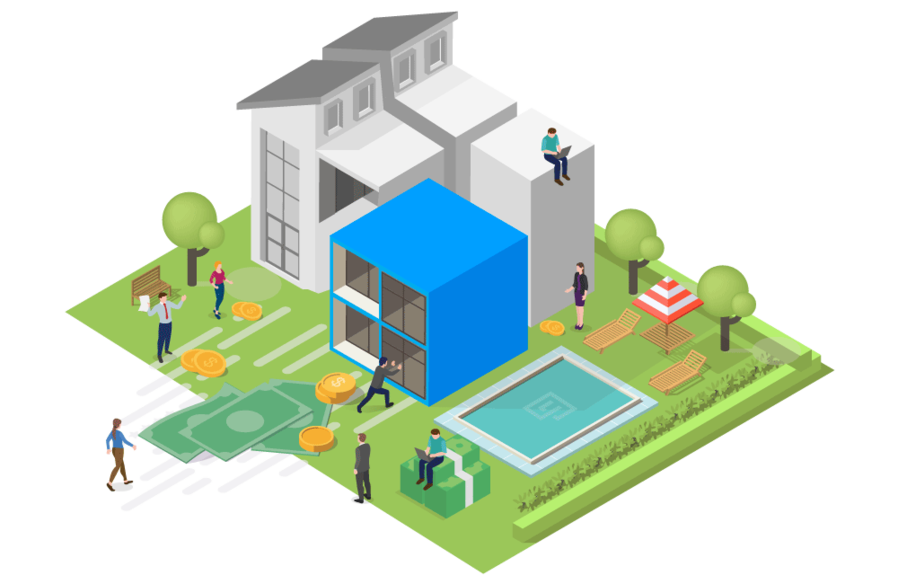 Fractional Ownership:
The Future of Real Estate Investing
Estate allows you to invest in luxury real estate through fractional ownership.
By dividing luxury real estate assets into shares, you can part-own luxury properties around the world for long-term capital gains.
We're democratizing a historically elite-only asset class, making it possible for anyone to grow their wealth through luxury real estate.
1. We identify the best markets to buy real estate
Our research team research into various potential markets to identify markets which fit our investment criteria, narrowing down 100 potential deals into the 1 perfect deal.
2. We buy the best real estate at the best price
We strive to seek to acquire the property at the lowest price possible.
We go through a comprehensive due diligence process to ensure the property fits our investment criteria and has a strong capacity for future capital gains and rental tenancy.
3. We add value to the real estate and rent them out
Once we acquire the property, we execute economical and meaningful renovation/modification to the property and have it available for long term monthly rental or short term rentals on platforms such as Airbnb depending on what will deliver a superior financial outcome.
Luxury real estate has been one of the best performing asset classes for decades, with returns as high as 300% in many high-end neighborhoods. We make investing in luxury real estate simple and accessible, helping you create financial stability for the future.
Proven Track Record
Our Founder - Patrick Grove - has invested in dozens of luxury real estate investments and taken 6 companies public. Building his net worth upwards of US$500m.
Proprietary Analytics Tool
Our proprietary investment analytics tool allows us to identify promising investment opportunities to give you the highest ROI on your investments.
Flexible Investment
You have the freedom to decide how much you want to invest, buy and sell shares as you see fit and build a portfolio in a way that works for you.
Passive Profits
Our team does all the work for you from start to finish, so you can focus on other ventures and earn money while you sleep.
Growth Future Wealth
Investing with Estate is about long-term capital gains, helping you build wealth for you and your family's future.
Diversify your Portfolio
Build a diversified investment portfolio like a billionaire with luxury real estate assets for long-term capital gains.
This will be paid out by the income generated by the property
FUTURE PROFITS TO MANAGER
This is to ensure that incentives are aligned between Estate and our investors
We strive to make the luxury real estate investment opportunities previously reserved for the elite, accessible to the masses, helping investors create a diversified real estate portfolio.
General Administrative Costs
Please read the individual offering circular to understand how management fees and potential future profit sharing is calculated.
Returns Calculator
Move the slider and see how your money can grow over time
Typical savings account after 7 years 1
Target Estate Investment after 7 years (10% CAGR) 2
Saving Account Investment
Disclaimer: (1) Assuming a US savings account rate of 0.02%. (2) Assuming a target investment compound annual growth rate of 7.22% with a 40% loan-to-value. Chart is a hypothetical comparison. Investing involves risk of loss and performance is not guaranteed.Bar
Frequently Asked Questions
When will the first property be ready?
Our first property - The Styles - will go live on 1st March 2022.
How do I get my money out?
We assess the right time to sell on a case-by-case basis but aim to hold the property for around 5-10 years. If we make a capital gain on the sale of the property, we will then give back your original investment plus any capital gains made over that time net of any fees, tax and expenses . Each investor will be responsible for your taxes in your respective jurisdictions.
How do I know I can trust you?
Our CEO, Patrick Grove, is a serial investor and entrepreneur with 6 IPOs under his belt to date. He owns multiple multi million-dollar homes in some of the most exclusive corners of the world and has been investing in luxury real estate for 15+ years. Patrick will not only be actively involved in finding and negotiating on every investment, but he'll be investing his own wealth into every Estate drop too.
Why is luxury real estate better than other forms of real estate?
When you assess the performance of high-end areas compared to middle and low-class areas, the high-end areas regularly outperform lower-end areas. The number of high net worth individuals is growing year after year, yet the number of luxury houses in exclusive areas (like Beverly Hills, for example) remains pretty much the same. Demand goes up, but supply doesn't - making the value of these properties appreciate.
What do I get when I invest?
When you invest in a property with Estate, you receive an interest in the Series LLC which owns the property.
Who is responsible for renting, maintaining and selling the property?
Our team of property experts will take care of finding a tenant, maintaining the property and eventually, selling it at the right price. With over two decades of experience in this space, you can trust we've got everything covered.
The idea behind Estate is to make luxury real estate investing accessible to everyone, which is why we've made the minimum investment in any of our properties just $1000. If you want to invest more capital, you can invest up to $100,000 into a single property.
What is your Investment Strategy?
Using our proprietary deal network, we identify homes with significant capital appreciation potential with strong fundemantals and ability to create value through upgrades and renovation. We look to hold these investments for 5-7 years, using the rental income generated by the property to manage its expenses such as taxes, maintenance and mortgage interest servicing.
What is Estate's Roadmap?
We strive to be the leading player in offering Fractional Ownership in Luxury Real Estate. We have a strong pipeline of properties that we hope to open up for investment in the near future. We are hoping to provide 5-7 drops every month as we scale our business. We recommend that investors to participate in a variety of drops in order to diversify their portfolio.
How does Estate charge management fees?
1% of the funds you invest will be paid to Estate annually as part of our management fees. This will typically be paid out by the rental income generated by the property and will be deducted automatically.
How does Estate charge Future Profits to Manager?
On the sale of the property, 10% of the profits generated from the sale will be compensated to Estate. This is to make sure that incentives are aligned between the investor and Estate.
Own Luxury Real Estate Portfolio like a Billionaire